Being a big fan of doing-it-myself, of course I am a big fan of a good tutorial. I am not sure how great this one will be, but I thought I would try to share how I created this cute wreath for my door using things that were just lying around my house and yard.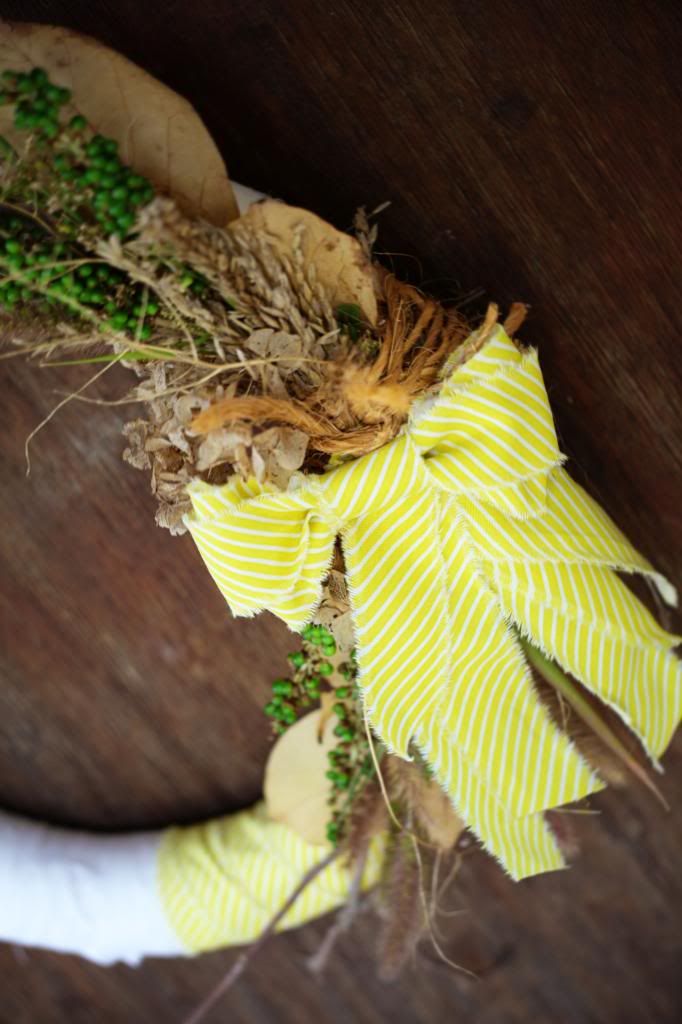 The possibilities for this wreath are endless, so the supplies can be whatever you have available. This is what I used: styrofoam wreath, fabric scraps, hot glue gun and glue sticks, [actual] sticks, dead hydrangea heads, leaves, cornstalk heads, weedy grass, dead asparagus plant, and ornamental grass.
You could also use a grapevine wreath for an even more rustic look. I already had this one lying around, and I wanted mine to contrast with my door. If you have a white door the grapevine would look great! Other options for natural items are: acorns, pine cones, bark, dried zinnias [or any flower], moss, any kind of leaves, grass or berries. I am going to try to find some feathers to add to mine!
I really only had a very loose plan for mine when I started. I just built it up one layer at a time, arranging it different ways to make sure I was satisfied before gluing. My wreath was already wrapped with strips of a cream-colored fabric, and I just added the green strips to get started.
First I attached a couple of sticks and some dried leaves as a base.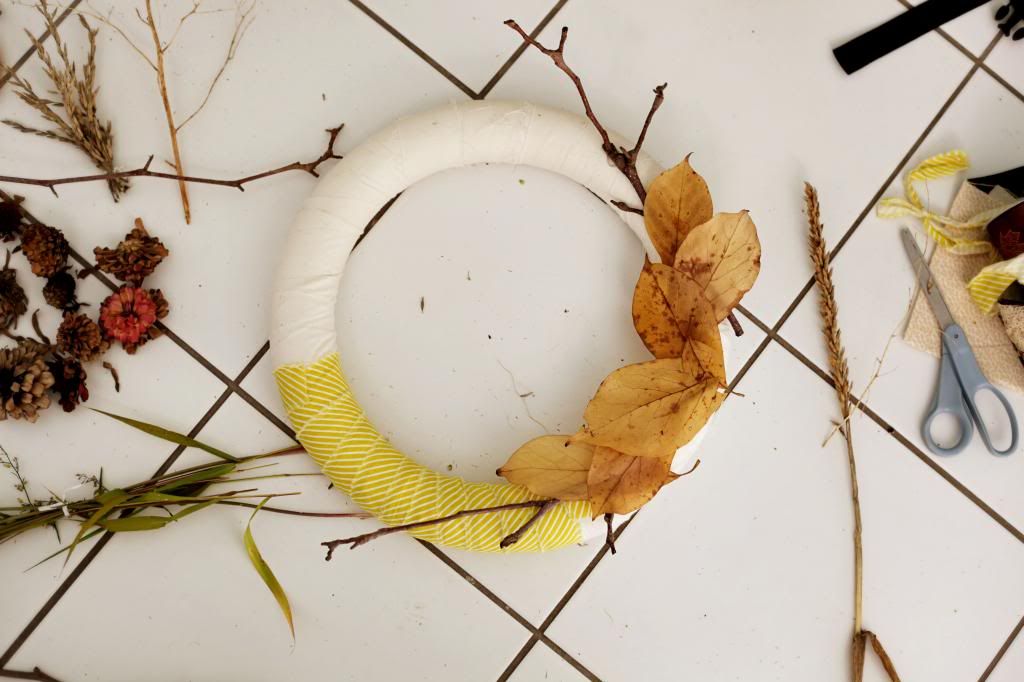 Next I gathered my small "bouquets" of some weedy grass, cornstalk heads, and ornamental grass and joined the pieces together with twist ties. This made it much easier to attach rather than attaching each individual piece. Also, when attached individually they don't have that bunched look of a bouquet.
This must be where I got excited and just went crazy because I stopped taking photos of my progress. Oops. That is why I have never done tutorials for my projects. I don't usually like stopping long enough to document the steps. Basically I attached the small bunches I just mentioned, and then I wrapped the area where the base of the bunches showed with haystring. I wrapped it pretty thick and tied several knots before tucking in some dried hydrangea, adding the bow, and tucking in a few twigs from [believe it or not] my dead asparagus plant.
Ta-Da!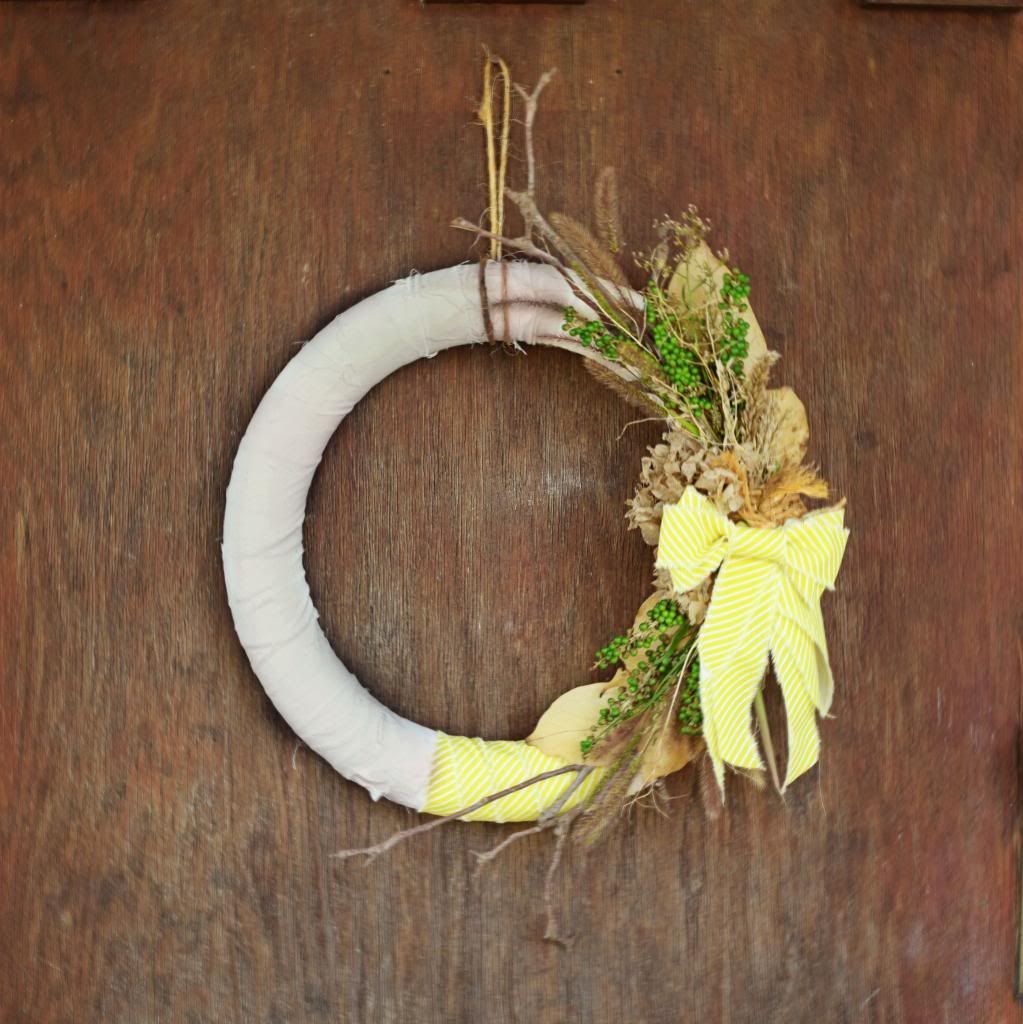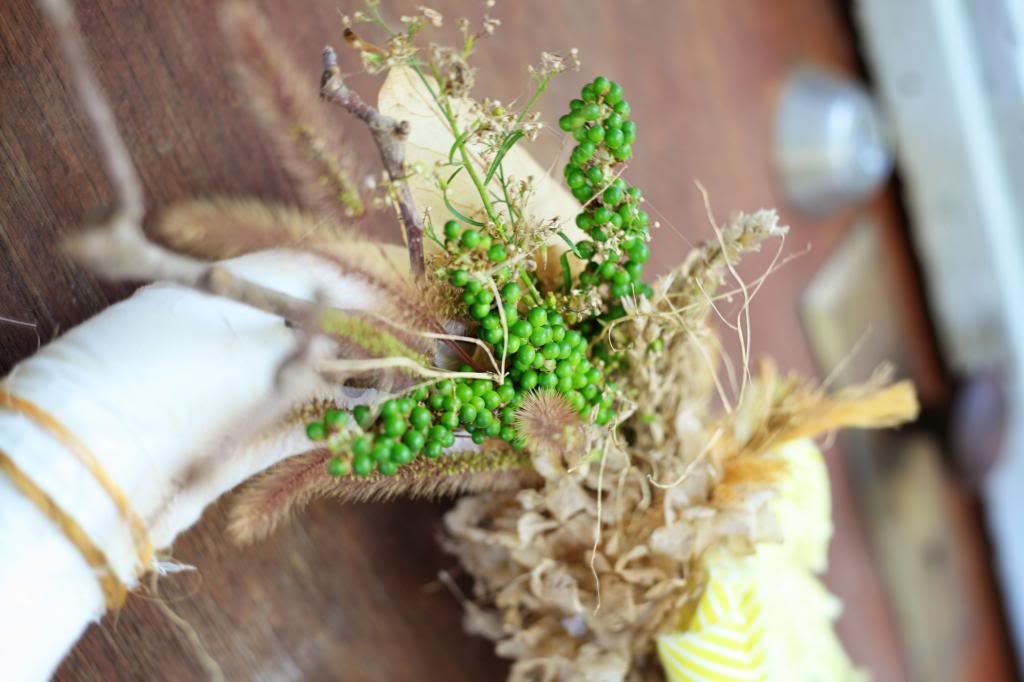 It was a fun, quick, and free project. That equals success in my book! Please share if you make one of your own!
xoxo,
Katie