Saturday I finally got to spend a full day with my mr. It is crazy how long it had been since we were both free for a whole day just to do whatever we pleased. We chose garage sales, home depot, groceries, and yard work. To most people that would sound crazy, but those are all simple things we haven't been able to do together on a regular basis in a long time. Garage sales would have been a bust since I was kind of looking for some small tables to refinish, but I found a Wacom tablet [works perfectly] for $1.00! That alone made it worth it...especially since I went with low expectations. I have never found tons of stuff at a garage sale...I am kind of weird about that stuff. Anyway...it was a fun and productive day. We worked in the yard until we were starving, and then we tried out the grill. It was only the second time we have used it so we are still learning, but it turned out pretty well. We will be grilling again tonight!
We trimmed hedges, planted zinnias, got the flower beds partially edged, bought mulch, mowed the lawn...It couldn't have been a better Saturday if you ask me.
I am linking up with Rebecca at
Simple as That
!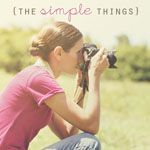 Be happy!
-Katie