So I posted last week about some special things around my house, and I have shared a few things on Instagram since then. I decided it was a worthy enough cause to start my first ever blog series. I make no commitment to how often I will post, but I do want to continue to document the things I love about my home. These things may not always be cute and tidy. Some days they will be a mess like the pillows and blankets on my couch that are pretty much never neatly arranged [gasp!] like one would believe from my Instagram shots. I love this because this means our couch is being used to snuggle and watch movies and [more often than not] eat dinner. It is where we live, and I want to remember the memories made here.
Today as I was folding laundry and making the bed, I was thinking about all the memories and meaning in this one little corner of our bedroom.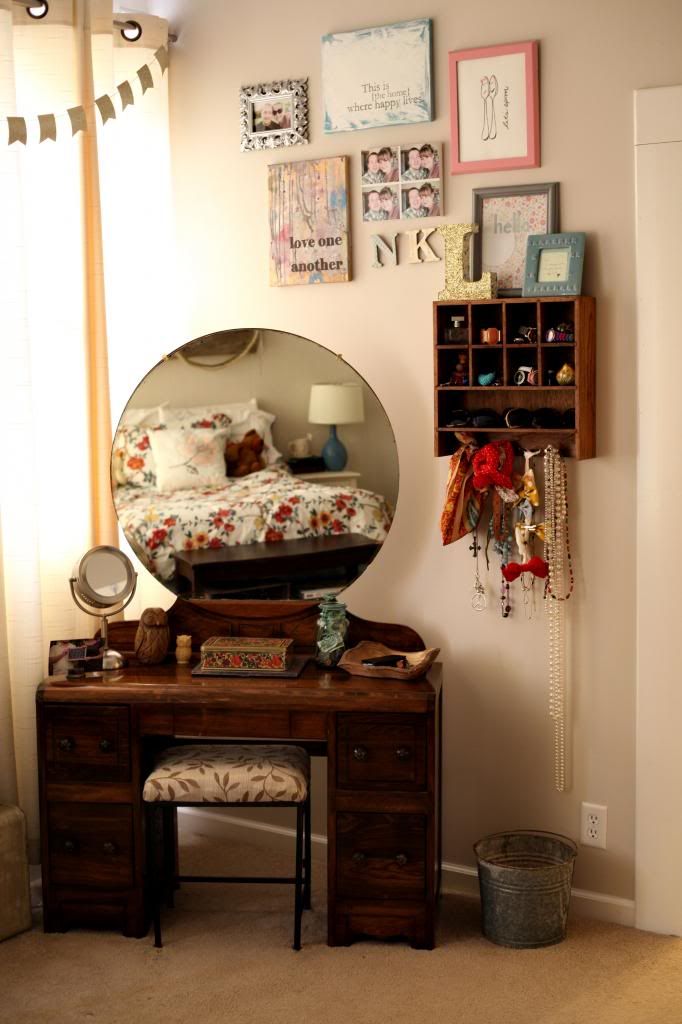 The biggest piece, the dresser, is both sentimental and a labor of love. This is not only the dresser that my sister and I used in our shared bedroom as long as I was at home, but it is from my father's childhood as well. When I was a kid it [and the matching chest of drawers] was a light green until we made the mistake of doing a horrible creamy white paint job. When I got married, Daddy and I spent hours in his shop sanding, scraping, and cleaning these two pieces so they could be stained. I am still thrilled with how they turned out.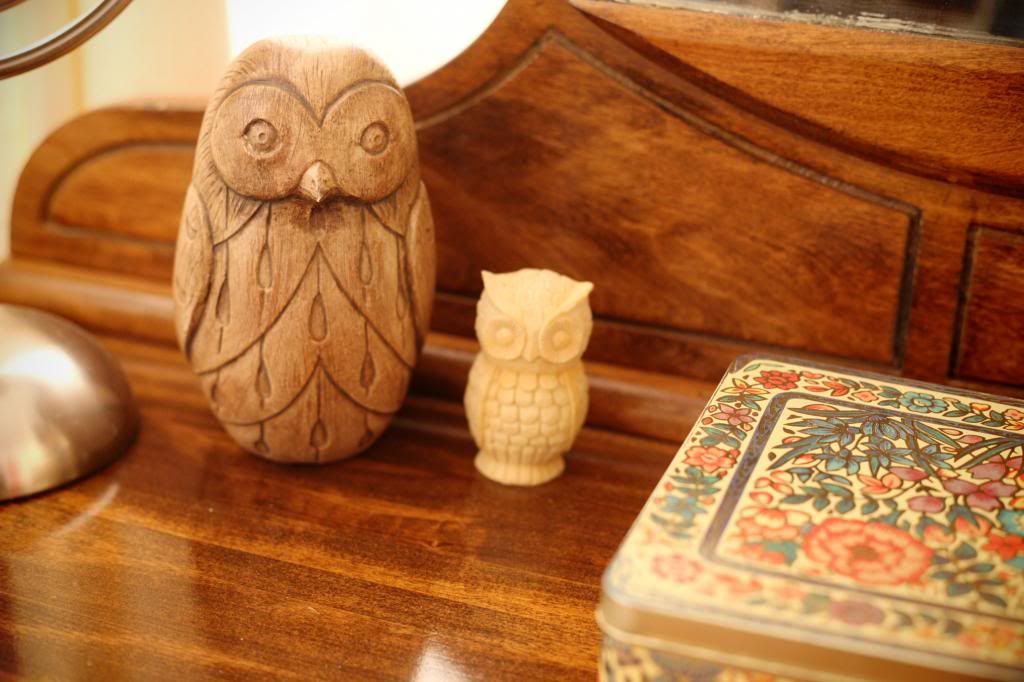 On top of the dresser sits the larger owl that my sis got me for my birthday a few years ago, and the small owl is from my mister on our first Christmas after we were married.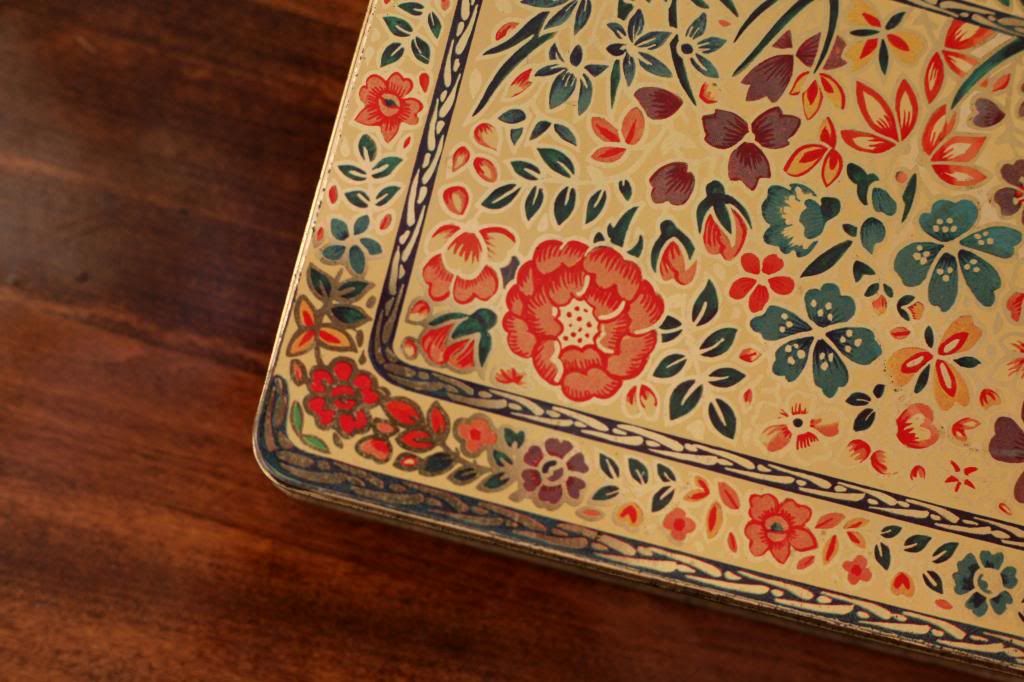 This gold, floral tin belonged to my great-grandmother, and it is one of my favorites pieces that belong to her.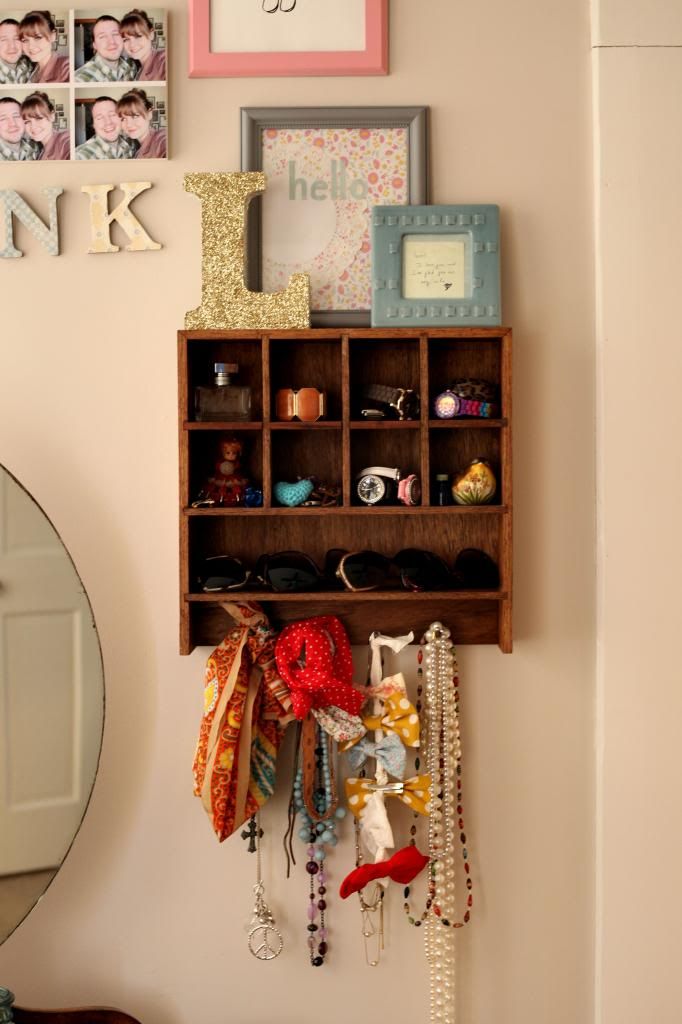 This oh-so-practical-not-so-fancy shelf is another thing I made with Daddy years ago [if by "made" you count watching, holding things, and rubbing on some stain]. I have used this more than I ever imagined I would, and I will always cherish it because of the memory behind making it. It holds all some of my hair goodies, necklaces, sunglasses, watches, PLUS the beaded doll that was my great Grandma Pearl's, the little blue bird she gave me when I was a little girl, and the airplane pin from my mister when we were just dating [and he was still flying!].
It is sometimes easy to overlook these things that surround me day-in-day-out, but I have so enjoyed bringing these things to the forefront for a bit.
Do you have any treasured, sentimental items or areas of your home? I would love to see them!
xoxo,
Katie