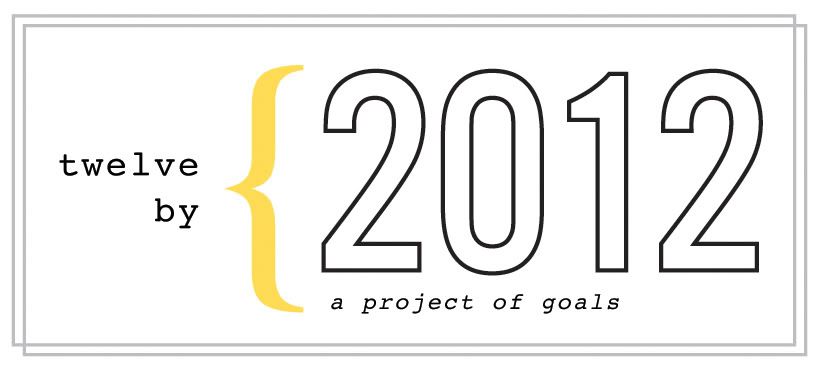 While reading through my blog list that I check daily I saw where Danni from
Oh, hello friend: you are loved
has posted a list of 12 things she wanted to accomplish by 2012. I was only able to quickly scan the main points of her list yesterday, but today as I read her thoughts on the list I knew I had to do it. I love to makes lists [I am the girl who will add something to a list just to get to mark it off], but usually my lists contain things that I absolutely have to do...or I have lists of the super fun projects I can't wait to start. Most of this new list is things that I definitely want to accomplish, but they are not urgent and usually get pushed to the back burner. Now that they are an official list and not just random thoughts in my head they shouldn't be forgotten, and it seems to give priority to these things. I think 12 was a perfect number. I had to think about the last few, but I had no real trouble forming the list. I am excited to accomplish everything, and I can't wait to share when all these things are checked off!
1. Take holiday photos for Christmas cards
2. Get caught up on all photo orders for a fresh start in the New Year
3. Organize and backup all personal and project photos.
4. Totally clean, organize, and revamp my office/craft room.
5. Complete, hang, and accessorize the shelf in the living room.
6. Plan and book our trip to Disney World!
7. Plan a really fun birthday for Nicholas [Dec. 31]
8. Learn more about the design functions [a.k.a. html] of my blog.
9. Plan mini sessions [and make 'em happen] for 2012.
10. Spend as much time as possible with my new niece.
11. Create a positive and inspiring workspace for painting [in a not so inspiring basement]
12. Get everything ready for a grand opening of my etsy store in the New Year!
I feel better already. These things are all things I look so forward to accomplishing, and it pushes me to get things done so I can mark things off every list I have. Maybe this was just the motivation I needed for this weekend's tasks! Wish me luck!
And of course I have to post a photo...posts are better with photos. Here is one [I don't think I shared] of a wedding from a few weeks ago.
Gonna go work on my lists!
Be happy!
-Katie Beth